Neuro Device runs in the Warsaw Marathon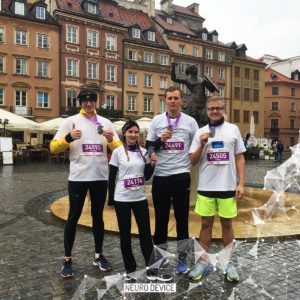 Passion is one of the most valuable resources at Neuro Device. We have a wonderful team that is passionate not only about work but also after-work projects.
On Sunday 24th September 2017, four representatives of Neuro Device took part in the High five race (Bieg po piątkę) as part of 39th PZU Warsaw Marathon. Full of energy and joy, they ran a distance of five kilometres along the streets of our capital. It wasn't easy, but the effort is what makes success taste so sweet.
We congratulate our marathon runners and wish them even better fitness. A healthy body is a home to a healthy spirit that is so needed in developing new, innovative ideas!