LifeTone among the winners of the MITEF Poland programme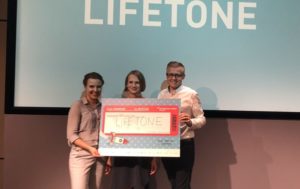 One of our projects, LifeTone, was among the winners of this year's edition of MITEF Poland (The MIT Enterprise Forum Start-up Acceleration Programme and Competition), a programme for start-up companies supporting commercialisation of innovative projects.
In recent weeks, our LifeTone team participated in many meetings, workshops, and lectures organised as part of the programme, and now, thanks to the win, it will go to a bootcamp in Boston in October. There, together with international experts, they will work out the next steps on the path to a launch on international markets.
LifeTone is a small, wireless device for monitoring life parameters in infants and young children, which allows to avoid many risks, including cot death. More information about the device can be found here: https://www.neurodevice.pl/projekty-rd/lifetone-breathing-monitor/