We have been honoured with the MedTec Startup Academy Award 2018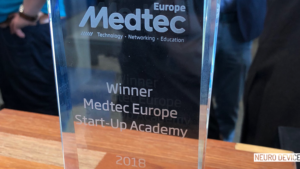 We are pleased to announce that our latest project – the world's first system supporting the effective rehabilitation of aphasia – has been awarded the MedTec Startup Academy Award 2018.
The awarded device works on the principle of neuromodulation and non-invasive electrical brain stimulation. This will enable both acceleration of the rehabilitation and significant improvement of its effects, enabling patients to return to normal life.
Medtec Europe Start-Up Academy is an annual competition during which young European companies from the medtech industry present their latest projects and establish business contacts.