We won the Chivas Venture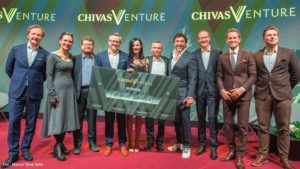 We won in the Polish edition of the competition for socially responsible projects – Chivas Venture. Every year, the creators of the competition invest USD 1 million in projects that change the world for the better and permanently affect the quality of human life. The jury selected the winner from about one hundred submitted projects, and the competition was run in 3 stages.
The idea of the winning project is to introduce the world's first system for effective rehabilitation of speech disorders (aphasia). According to the available data, such therapy is needed by as many as 1 in 250 people in the world. The device can be used not only in professional therapy, but it will also enable home therapy. It will guarantee both acceleration of rehabilitation and significant improvement of its effects, enabling patients to return to normal life.
The final gala, during which the winner was selected, was attended by 400 people and the special guest was the Global Ambassador of the brand, actor Javier Bardem. We also want to congratulate the other great projects that made it to the final round: Biolumo, andervision, Hospicare and Food Outlet.
And now we have the world final ahead of us, which will take place at the end of May in Amsterdam.