Neuro Device in the Presidential Palace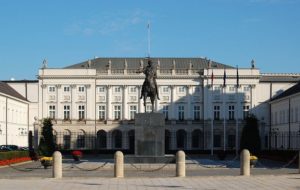 Neuro Device is one of the start-ups that were chosen by the President's Chancellery to participate in the "Startups in the Palace – Cooperation" initiative.
On 9th September, Paweł Soluch together with Przemysław Kunert, PhD, from the Neurosurgery Clinic of the Medical University of Warsaw, and Marcus Gerhardt, President of Blackrock Microsystems, LLC were guests of the President's Chancellery.
In a discussion with Marta Gajęcka, advisor to the President, they presented the effects of their work to date and plans of cooperation in the development of a neuroprosthetic system, which in the near future may significantly help patients with neurological trauma.
Thank you for your invitation!