NYC Neuromodulation 2020 – online conference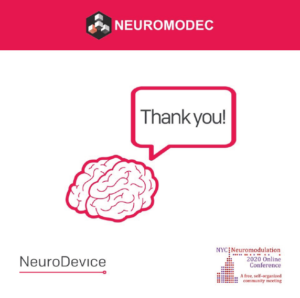 On 20-22 April, the online 2020 NYC Neuromodulation conference was held organised by Neuromodec, and Neuro Device simply could not refuse to participate. Of course, we took part in it remotely, sitting at our homes on sofas or in comfortable armchairs. We are very happy that in times of #covid19 such events are moving to the digital world and do not lose any value at all.
59 sessions from various fields – their common denominator: neuromodulation – were made available for free to everyone around the world. More than 250 experts connected to the participants using the Zoom platform to discuss their insights, specialisations and to offer their support.
We decided to implement much of what we heard in our solutions. And our R&U department sacrificed sleepless nights to acquire as much knowledge as possible. We hope that more events will move online, because in our opinion, every cancelled scientific conference is a loss for science.