Paweł Soluch graduated from the Leadership Academy!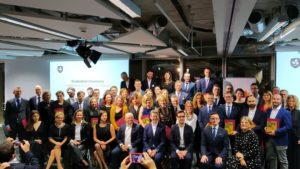 Paweł Soluch is now officially a graduate of the Leadership Academy for Poland, organised by the Center for Leadership. Paweł had the opportunity to be among the graduates thanks to the FOCUS programme grant from the Foundation for Polish Science. We strongly recommend the development of quality leadership. We couldn't be prouder of our CEO!
The Center for Leadership is an organisation promoting the development of leadership in Poland and connecting outstanding Poles who will shape the future of the country and the world by creating positive values, unlocking the hidden potential of people and organisations, inspiring them to actively participate in public affairs and undertake new initiatives that have a positive impact on the world. The Centre for Leadership offers scholarships as well as supports new standards in education and science in Poland, striving to establish a world-class university in Poland.
Photo: Foundation for Polish Science
Source: Center for Leadership