International Conference Planet Masters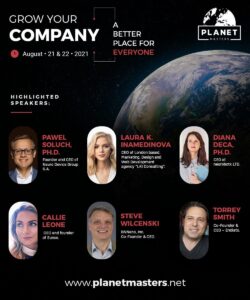 On August 21 Paweł Soluch had the pleasure of speaking at International Conference Planet Masters with the Grow Your Company program.
Paweł talked about his leadership, how he managed to create a team and lead it a Freedom Focused Company. He also talked about the Voic project, which is on its best way to improve the reality of patients with neurologic problems.
Grow Your Company is a program that unites entrepreneurs from all over the world, who believe that an innovative company and team is the solution for great global challenges for humanity and that it will make the world a better place for all of us.
Pawel Soluch – Planet Masters – International Conference – https://planetmasters.net/pawel-soluch/