Zespół LifeTone na festiwalu HUBWeek w Bostonie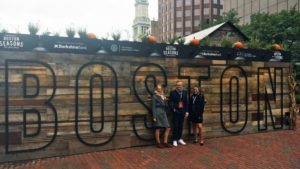 Zespół reprezentujący projekt LifeTone: Ewa Rutczyńska-Jamróz, Luiza Drygiel, oraz nasz prezes Paweł Soluch, wzięli udział w festiwalu innowacji HUBWeek, który odbył się na początku października w Bostonie. To prestiżowa impreza promująca idee zmieniające świat, na którą zostaliśmy zaproszeni jako zwycięzcy tegorocznej edycji MITEF Poland (The MIT Enterprise Forum Startup Competition).
Nasze urządzenie zaprezentowaliśmy m.in. podczas Showcase Demo Day, gdzie pokazywane były najbardziej obiecujące projekty, firmy oraz laboratoria z całego świata. Udział w wydarzeniu był także okazją do spotkań z inspirującymi ludźmi i uczestnictwa w wielu warsztatach.
LifeTone Baby Monitor to niewielkie mobilne urządzenie, które przymocowane do pieluszki monitoruje funkcje życiowe niemowląt i bardzo małych dzieci. Pozwala zapobiec wielu zagrożeniom, takim jak zespół śmierci łóżeczkowej. Projekt jest obecnie w fazie prototypu.