Nowe badania z wykorzystaniem Neuro Device Scent™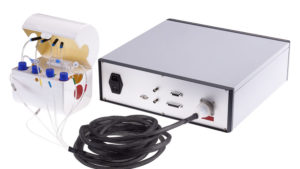 Jedno z naszych urządzeń, Neuro Device Scent™, zostało wykorzystane podczas badania "Reakcja somatosensoryczna na stymulację trójdzielną: badanie czynnościowej spektroskopii w bliskiej podczerwieni (fNIRS)" przeprowadzonego przez naukowców z Leibniz Research Centre for Working Environment and Human Factors w Dortmundzie oraz MSH Medical School Hamburg, University of Applied Sciences and Medical University.
Celem badania było pokazanie odpowiedzi neuronalnej w korze somatosensorycznej w reakcji na drażniące substancje chemiczne. Co pozwoli na opracowanie stosunkowo niedrogiej, ale innowacyjnej metody do obiektywnej oceny drażniących dla ludzi substancji lotnych.
Neuro Device Scent™ to nasz autorski olfaktometr – system do przedstawiania bodźców węchowych podczas analizy sensorycznej i badania układu nerwowego, który umożliwia zmierzenie reakcji ludzkiego systemu neuronalnego na zapachy.
Badanie zostało opisane w dziale Scientific Reports Magazynu Nature, o czym możecie przeczytać tutaj: https://go.nature.com/2Bb2Xr3